As cyber attacks via third parties become more commonplace, IT decision makers have put the spotlight on the cyber security of their vendors. According to data from a commissioned study, conducted by Forrester Consulting on behalf of BitSight, IT departments among enterprises in the US, UK, France and Germany allocated 21% of their overall IT spending to third parties. That equates to over $270 billion annually in the US alone. That study details the desires of IT professionals and the abilities they would like to have to manage cyber risk and conduct third party monitoring.
Point-in-time, subjective questionnaires are not sufficient for compliance with the new regulations requiring continuous monitoring of vendors, partners and other third parties. (The New York Department of Financial Services has frequently led the way on cybersecurity standards.)
It can be difficult to manage so many different partnerships, especially for companies with hundreds or thousands of vendors. Those considerations have forced IT decision makers to look for data-driven, automated solutions that can scale security performance management.
Current Tools Aren't Enough to Effectively Manage Third Party Cyber Risks
While IT professionals acknowledge that they want to continuously manage the cyber risks in their network, the solutions they currently use don't give them that privilege. According to the study, only 23% of organizations formally track threat intelligence practices monthly or more.
The following graph shares which types of supplier-related risks IT professionals are most interested in tracking and managing. Almost two-thirds of surveyed professionals would like to have more data about the risk of losing critical company data and/or the threat of cyberattacks.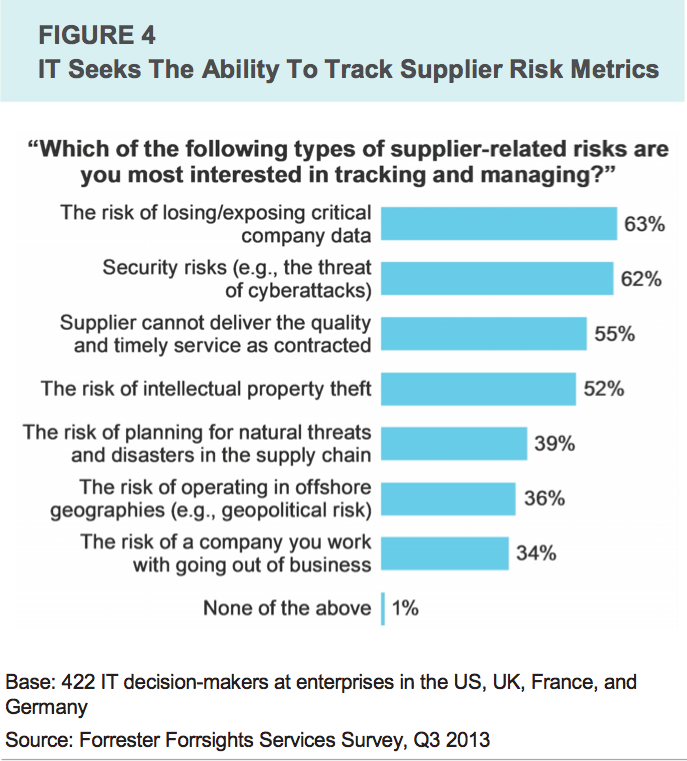 The chart below shares the percentage of survey participants that believe continuous monitoring can help in the areas listed. More than half of the respondents think continuous third party monitoring will make it easier to identify and remediate threats, compare security postures of various companies and track industry trends.
Get the Weekly Cybersecurity Newsletter
Subscribe to get security news and industry ratings updates in your inbox.