For the second year in a row, BitSight gave its engineers, product managers, and data and research scientists the day off from normal work to make something cool. The hackathon day had all the typical stuff: awesome custom-designed t-shirts, pizza for lunch, and a demo day the next day. The only "requirement" for teams was that they produce a working prototype to demo. We wanted actual code (not great code, necessarily, but code), not just design mocks.
Raleigh (left) and Cambridge (right) hackathon participants wearing our custom t-shirts.
The demos were judged by a panel consisting of the two cofounders and three other executives from outside engineering who worked across all three offices. They awarded four prizes, and there was also a popular vote award. The prizes were chromecasts for the popular vote, yubikeys for three of the panel's awards, and stuffed mosquitoes for the quirkiest project. Our CEO even sat in on most of the demos!
Hackathon participants and judges watching the demos.
To some surprise, the mascot of the hackathon was a mosquito, in keeping with the theme of "scratch an itch." Why was that our theme? Because we wanted to inspire participants to make something better that had been bothering them.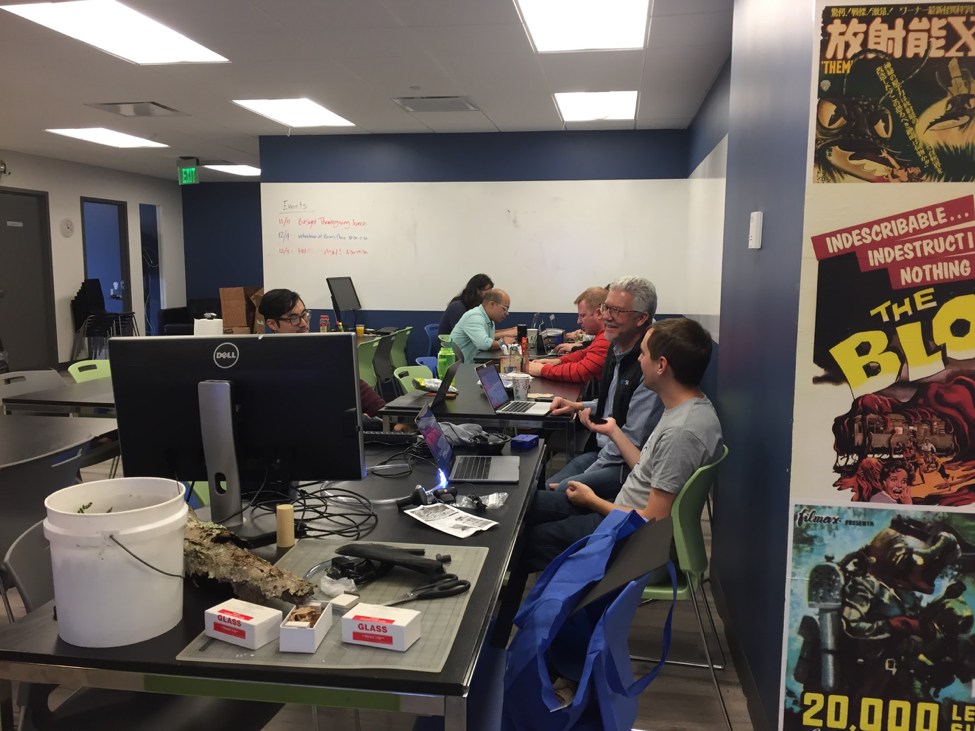 Multiple Cambridge hackathon teams camped out in our lunch area for the day.
For some teams, this meant finding ways to improve the business. One team, Deep Fried Awesome, helped sales to create reports for prospective clients more quickly by using Selenium to automatically get screenshots for a given company. Meanwhile, Team Forest Ent implemented an interactive visualization to enable customers to more readily understand their vendor ecosystem. Many people at BitSight had wanted something like this for a while, so there was noticeable excitement when these demoed. Forest Ent was awarded the prize for best business value by the panel, and Deep Fried Awesome received an honorary mention. Another honorary mention in this category was a D3.js visualization to show the breakdown of a company's IT assets and security events as a sunburst, which was created by Just Birds.
Other teams just wanted to do something fun. For them, we had a prize for the quirkiest project, which fittingly was a plushie mosquito. The winner (Bell Ringers) set up a series of motor-controlled bells that chimed different tunes when various events happened in BitSight's application, such as adding a new user or an upsell. Another quirky project was an update to the BitSight office frog's tank, which included a new frog livestream from a small camera hidden inside his tank.
The opportunity to play with cool new technology really appealed to some teams. One team migrated several HipChat bots over to slack. Multiple teams experimented with AWS Lambda, including the winning team for coolest tech. The Alexanauts created a voice-activated Alexa application to get a user's BitSight alerts, return BitSight security ratings for companies in their portfolio, and even allow the user to add a new company to their portfolio, among other things. The application used Lambda to catch and process the voice commands.
A different team, Four out of Seven, used lambda to create a recruiting tool to enable interview candidates to run their take-home test code against the testing engine before submitting it. In the status quo, the engineering manager runs that code against the test engine after the candidate submits it, and often has to modify the code. With this new tool, they'll be able to get the results automatically, which will definitely reduce their overhead. This project won both best overall from our panel as well as the popular vote.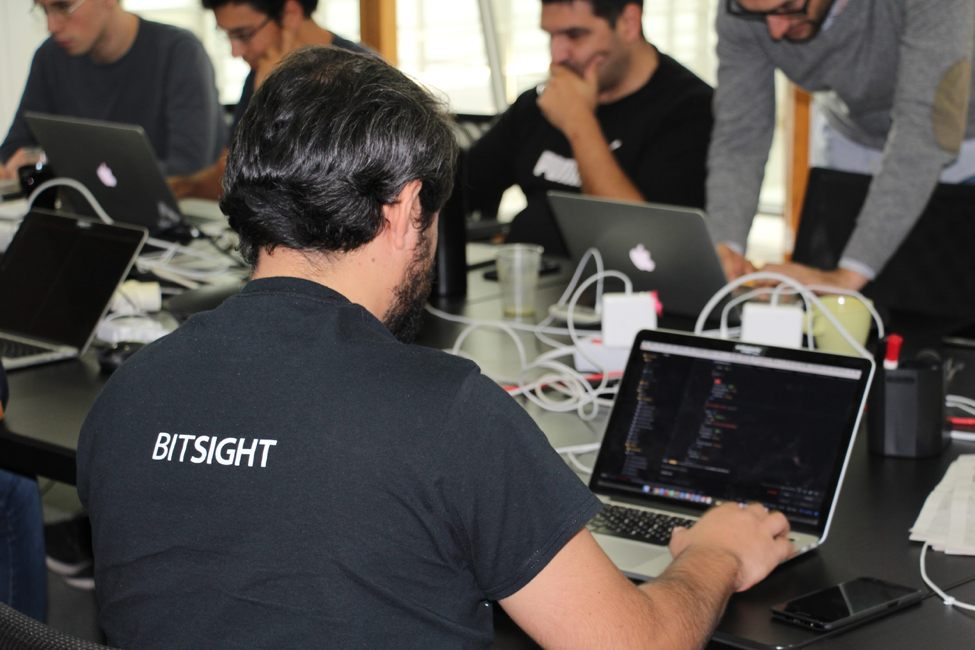 Lisbon engineers hard at work during the hackathon.
We ultimately had sixteen teams participate across all three offices: Cambridge, Lisbon and Raleigh. Some teams, including the winning business value team (Forest Ents), were cross-office. During this upcoming year, we'll be looking for ways to incorporate the hackathon projects into the business as product or process enhancements.
All in all, the hackathon was a great success, and we're already excited for next year!
Thanks to the following BitSight-ers for organizing the hackathon and contributing to this blog post:
Caroline Gallagher

Alan Porter

Joao Quiterio

Isra Shabir

Nick Whalen
Get the Weekly Cybersecurity Newsletter
Subscribe to get security news and industry ratings updates in your inbox.