Bitsight is thrilled to announce Bitsight Sovereign Security Ratings, the first objective measurement of national cybersecurity performance. Sovereign Security Ratings measure the security hygiene of nations by observing their IP space and collecting externally observable data on the presence of machine compromise and malware, security diligence, and user behaviors. Government agencies and Computer Emergency Response Teams (CERTs) can use Sovereign Security Ratings to measure, monitor, compare, and investigate the cybersecurity risk of their country and the companies that are critical to its infrastructure.

Today's Challenges: Information Gaps and Protecting Critical Infrastructure
The gathering and processing of information on cyber threats is still primarily a manual process. This often results in limited visibility and information gaps for security and risk teams tasked with defending against cyber threats. With the increased rate at which malware and threats develop and spread, those responsible for national security need a more efficient way to synthesize intelligence in order to take action. Kaspersky Labs detected 323,000 malware files per day in 2016, illustrating the alarming rate of malware spread.
Making matters more complicated is the ever-changing nature of critical infrastructure. Countries can no longer afford to protect only critical energy resources and financial institutions. Critical infrastructure now encompasses the common cloud service providers and technologies used by major organizations in their country. Ensuring that critical infrastructure organizations are both secure and resilient is now paramount, and doing so requires continuously monitoring the security for an increasing number of organizations.
The Solution
Bitsight Sovereign Security Ratings automate the gathering of threat intelligence, adding greater visibility and context to threats occurring in a given country. This way, the most critical information can be passed on to key stakeholders. Government agencies can now gain an understanding of trends occurring within their nation, execute searches at a country-wide level, and develop strategic plans to reduce and prevent cybercrime.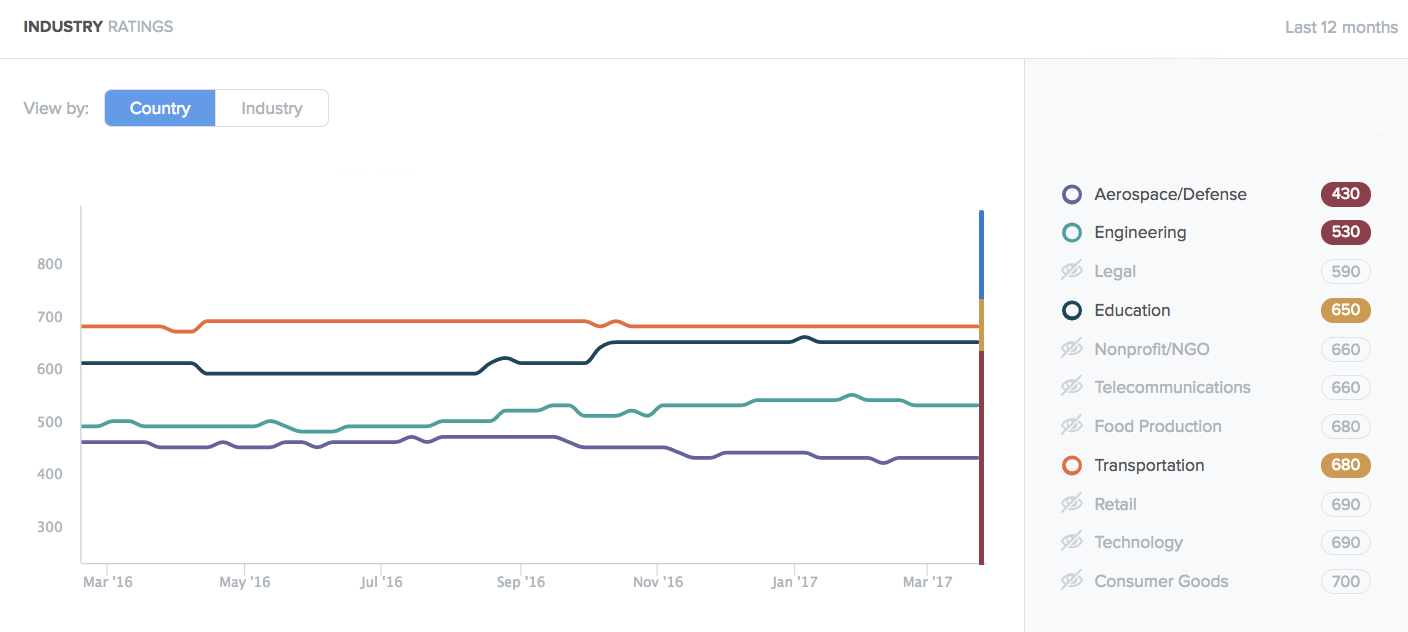 Governments can also compare their performance on a country-by-country or industry-by-industry level to get benchmarks and a sense of relative performance in a similar nation. These security benchmarks can help inform a country's security procedures and policies to attain a higher level of security performance.
Finally, security teams can also investigate threats at a country-wide scope by looking at any IP addresses within their country. This allows security analysts to pinpoint whether a trending piece of malware is widespread throughout critical infrastructure organizations, or if it is concentrated to a particular organization or industry.
How Sovereign Security Ratings Can Help Drive National Security Improvement
Using externally observable data to improve security posture is no longer just a concept- it is now proven. Over 700 organizations use Bitsight and many have not only improved their security posture, they've also helped their third parties and business partners improve theirs. In this regard, it is clear that security ratings are well on their way to becoming as important as credit ratings when evaluating business relationships.
Bitsight aims to extend this same benefit to government agencies and organizations with Sovereign Security Ratings. With no other equivalent solution in the market today, we expect to see governments adopt Bitsight Sovereign Security Ratings to drive security improvement throughout their countries.
To learn more about Bitsight Sovereign Security Ratings, visit https://www.bitsight.com/sovereign-security-ratings.
Get the Weekly Cybersecurity Newsletter
Subscribe to get security news and industry ratings updates in your inbox.