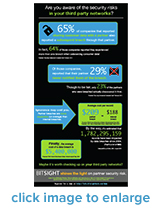 Earlier this year, The Ponemon Institute published a report that we at BitSight have referenced many times. The report is called "Securing Outsourced Consumer Data" and discusses the results of a survey of 748 organizations who share consumer data with vendors.
The results are shocking and highlight the fact that a lot of companies are simply not aware of the risks in their partner networks and aren't taking necessary precautions to protect their data in the extended enterprise. In fact, according to this study, the top mistake companies made was that "when outsourcing consumer data to vendors... [they] do not hold vendors to the same security standards as they do for their own in-house security practices." This is evidenced in the finding that nearly 46% of respondents indicate they do nothing to evaluate the security of the vendor before transferring their data.
The full report is packed with surprising figures like the one mentioned above. But, short of asking you to read it all, we decided to create an infographic that summarizes these findings and a few other facts about third party data breaches. Click here to download, and be sure to share your thoughts in the space below.
Get the Weekly Cybersecurity Newsletter
Subscribe to get security news and industry ratings updates in your inbox.